ABOUT CUT & PASTE CRAFT STUDIO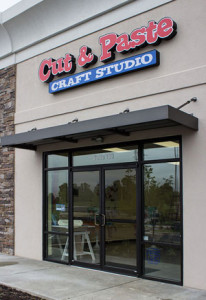 We make art and we make crafts.
We make messes and we make memories.
We are a drop-in craft studio, where everyone from ages 3 to 103 can create their own masterpiece. Kids can paint, decoupage, and embellish a variety of papier mâché and wooden items to dress up their rooms. Teens and adults can create gorgeous frames, mugs, signs, door hangers, tote bags, and other items for home décor and gifts. We have projects for beginners and advanced crafter's alike.
Each season and holiday, we will add special items for decorations, ornaments, and gifts. Prices start as low as $6 per item. Bring the whole family and craft together, then take your creations home that day. We provide all the supplies and instruction and best of all, we clean up the mess!
CONTACT US!
To talk with us, call us at 859.223.0114 or email us at info@cutandpastecraftstudio.com
The History of Cut & Paste Craft Studio

I've been a crafter all my life and a scrapbooker for over 10 years. In the spring of 2014, as I read about scrapbook stores — local, national and online — closing, I chatted with a friend about what would make a good place for crafters to gather.
It needed to be a comfortable space, where people could gather, learn new crafts, practice old ones, chat with friends, and maybe share a cup of coffee. It needed to kid-friendly, in fact, it needed to be kid-perfect! The perfect place for kids to come, learn to express themselves through crafting and make messes that mom wouldn't have to clean up. And so was born the idea for The Cut & Paste Craft Studio. I am thrilled to have opened in June 2015 and look forward to many years inspiring my community to get a little messy and create!