PRIVATE EVENTS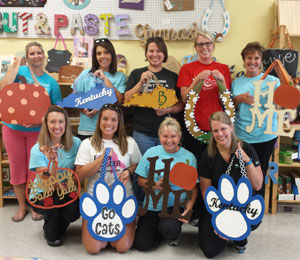 Cut & Paste Craft Studio is the perfect venue for a Ladies' Night Out, craft night, or Pinterest party. Gather your friends and spend an evening painting door hangers, monograms, or home decor items. We can also bring our projects to your location for 15 crafters or more. Give us a call at 859.223.0114 to customize your event to fit your needs.
Two-hour private events can be scheduled 6-8pm or 7-9pm on Sunday through Thursday evenings. You may bring food to any private events, but alcohol is not allowed.
Private Class for 8-24 adults:
Private class making wooden and burlap door hangers on weeknight evenings. All projects must be pre-ordered and pre-paid. Each crafter will call us at 859.223.0114 to order their project. We do accept credit cards for payment over the phone. See our classes page to see the kind of crafts we offer for each season, or call us about arranging a custom project, just for your group.
Private Crafting Evening for 12-24 adults:
Crafters each choose their own project from in-stock options. No pre-payment is required, however this option only available for a minimum of 12 crafters.
Smaller Groups:
If you've got a smaller group of 8-12 crafters, we can do a table reservation on weekday mornings and afternoons. Bring your whole office for a team-building event, or a lunch-time escape.